Sandals Royal Plantation, Ocho Rios, Jamaica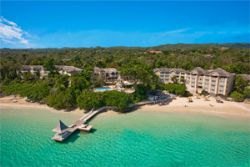 Sandals Royal Plantation, Ocho Rios, Jamaica
Nestled atop a seaside bluff above the stunning Caribbean Sea, this 74-room all oceanview gem presents the perfect setting to truly get away from it all. Old world elegance and warm hospitality are at the crux of this charming all-suite Jamaican resort. With exquisite Mediterranean and French cuisine, the Caribbean's only Champagne & Caviar Bar and spectacular twin beaches with your beach butler only a nod away.
...

Pleasant Holidays, in business since 1959, is one of the leading travel companies serving Hawaii, Mexico, the Caribbean, Costa Rica, Continental United States, Tahiti and the South Pacific, sending more than 350,000 visitors to its destinations annually from over 260 cities nationwide.
From the design to the operation of our travel programs, our commitment is to provide you with an enjoyable and memorable journey. Our dedicated, knowledgeable, and well-trained team has perfected thi
...