Wild California Escape: Channel Islands National Park
on National Geographic Venture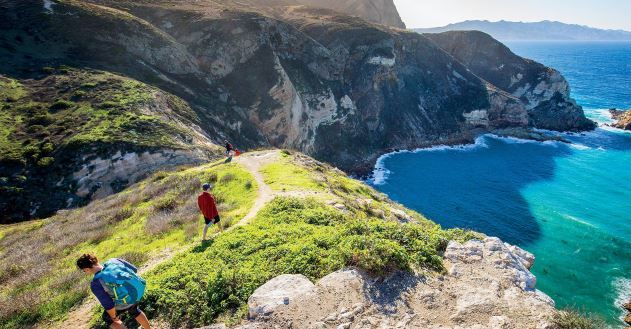 Base Camp Channel Islands
Experience the wilder side of California
Welcome to a new kind of getaway
We've teamed up with exhale to create a 5-day Wildness + Wellness adventure in the remote and remarkable Channel Islands. Board the National Geographic Sea Lion, your floating base camp, in Los Angeles, and head for three of the five wildlife-rich islands which make up Channel Islands National Park, plus Catalina Island. Here, you'll actively explore unmarred landscapes, revel in pure nature, and rejuvenate mind, body, and soul with exhale's award-winning wellbeing programs.
Escape the ordinary with revitalizing opportunities:
Exult in the pristine beauty of the islands and roam free in wide-open spaces
Take a leisurely trail walk with a naturalist, looking out for the astonishing number of endemic flora & fauna
Explore fascinating sea caves by kayak or paddleboard
Find your center with daily guided exhale meditation sessions
Challenge body and mind with exhale fitness classes including Core Fusion Bootcamp, Barre + Cardio, & restorative Chill Yoga
Stroll white-sand beaches or spend time exploring bustling tide pools
Take in panoramic views & spectacular landscapes on exhale mindfulness hikes + post-hike assisted stretching sessions
Enjoy a sunset cocktail party on deck, then end the day with stargazing
About National Geographic Venture
About Lindblad Expeditions

Going where awesome is for 50 years
Lindblad Expeditions goes to the most amazing places on the planet—40+ geographies in all. And they've planted a flag in many of them, deeply committing to remote wild places—like South Georgia and the Falklands; Patagonia, where they opened up Staten Island, 'the island at the end of the world,' for eco-tourism; and remote and beautiful regions of Polynesia, including the Marquesas Islands where few go.

Teams that do whatever it takes
Lindblad's teams will do whatever it takes to ensure you unforgettable experiences. Whether it's manning the spotting scopes all night to ensure a polar bear sighting, orchestrating a landing at an extraordinary wildlife site to coincide with a magnificent sunrise, or sending waitstaff out with gourmet ice cream bars to refresh you as you explore a Polynesia atoll, their commitment creates thrilling moments for you.

Global Stewards
A core value of Lindablad Expeditions is to positively impact the geographies where the fleet sails. Leaders in the travel industry for over 50 years, Lindblad has built ground-breaking programs in education, empowered local artisans, protected wild areas, and so much more. By bringing travelers into wilderness and inspiring them to care, Lindblad creates planetary stewards every day.