Star Collector: In-depth Expeditions of Indonesia, the Philippines & the Great Barrier Reef
on Star Breeze
Cruise, Ocean cruise, Small Ship/Yacht
Photo Credit: MoviePeople.ru
Unspoiled settings and uncrowded beaches abound during this extended cruise featuring visits to China, the Philippines, Indonesia, and Australia. Swim and sunbathe before savoring enticing, locally sourced Filipino cuisine at a Windstar Signature beach party with the scenic splendors of the Hundred Islands as your backdrop. Snorkel among coral reefs adjacent to pristine white beaches, and browse boutique shops or dine at one-of-a-kind restaurants in Boracay, a verdant, palm-lined port inaccessible to large cruise ships. Drift through murky limestone caverns sculpted by underground water near Palawan in the Philippines. Amble among brightly painted Dutch architecture and spot the lingering European influences in the former colony of Ambon, now one of Indonesia's most culturally diverse cities. Browse armor exhibits and military artifacts that protected Thursday Island colonists for nearly two centuries. Uncover an array of environmental threats affecting the world's coral reefs, including the Great Barrier Reef during a highly informative tour at Australia's Lizard Island Research Center.
THE WORLD'S BEST SMALL SHIP CRUISE LINE

NO ONE ELSE GOES SO FAR TO GET TRAVELERS SO CLOSE …
You're closer to secluded coves, tiny villages, misty fjords. To ancient ruins, medieval alleyways, quaint marinas. To unspoiled beaches, unfamiliar cultures, undiscovered atolls. To enlivening your curiosity and awakening your sense of wonder. You're closer than ever to the kind of authentic and unforgettable experiences that you travel to find in the first place. You're about to board Windstar. And you're closer to all the places that larger ships can't reach.

SEE A WORLD FEW WILL EVER SEE …
Welcome to a world of understated elegance and uncommon beauty. A world that leaves crowds and commonplace behind to find unique ports of call, and local, exotic cultures that are at once fascinating and wondrous. A world that's equal parts intimate, indulgent and inspiring. Where the allure and beauty and magic of the places you sail to is equaled only by the ship that takes you there.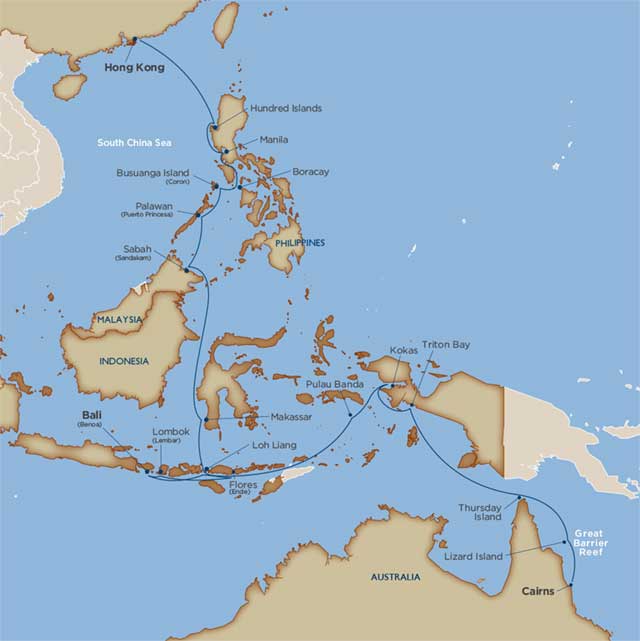 | Day | Port | Arrive | Depart |
| --- | --- | --- | --- |
| 1 | Hong Kong | | 5:00 PM |
| 2 | At Sea | | |
| 3 | Hundred Islands | 7:00 AM | 4:00 PM |
| 4 | Manila | 10:00 AM | 6:00 PM |
| 5 | Boracay | | 9:00 PM |
| 6 | Coron/Busuanga Island | 9:00 AM | 5:00 PM |
| 7 | Palawan Puerto Princesa | 9:00 AM | |
| 8 | At Sea | | |
| 9 | Sandakan | 8:00 AM | 6:00 PM |
| 10 | At Sea | | |
| 11 | At Sea | | |
| 12 | Makassar | 6:00 AM | 4:00 PM |
| 13 | Loh Liang | 1:00 PM | 5:00 PM |
| 14 | Lembar | 1:00 PM | 10:00 PM |
| 15 | Benoa | 7:00 AM | 6:00 PM |
| 16 | Lembar | 7:00 AM | 4:00 PM |
| 17 | Loh Liang | 1:00 PM | 6:00 PM |
| 18 | Ende | 7:00 AM | 5:00 PM |
| 19 | At Sea | | |
| 20 | Pulau Banda | 8:00 AM | 2:00 PM |
| 21 | Kokas | 8:00 AM | 4:00 PM |
| 22 | Triton Bay | 10:00 AM | 5:00 PM |
| 23 | Tual | 6:00 AM | 10:00 AM |
| 24 | At Sea | | |
| 25 | Thursday Island | 1:00 PM | 6:30 PM |
| 26 | At Sea | | |
| 27 | Lizard Island | 8:00 AM | 5:00 PM |
| 28 | Cairns | 7:00 AM | |